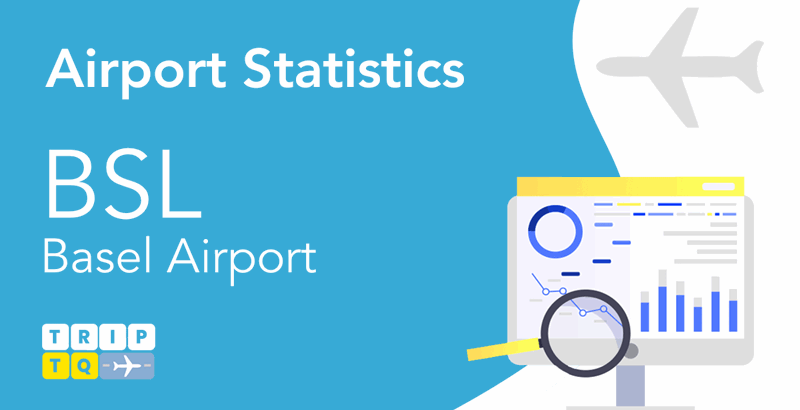 EuroAirport Basel Mulhouse Freiburg Passenger Traffic Jumps 39% in July 2023
EuroAirport Basel Mulhouse Freiburg in Switzerland experienced a remarkable surge in passenger numbers in July 2023, with an impressive 38.93% increase recorded. In July 2019, the pre-pandemic year, the airport welcomed 70,410 passengers. However, four years later, in July 2023, the numbers soared to 97,823 passengers. This significant growth represents not only the recovery of the airport but also the broader trend of airports worldwide bouncing back from the challenges posed by the global pandemic.
Post-pandemic airports worldwide have witnessed a notable increase in passenger traffic compared to 2019. However, many airports faced significant obstacles in recovering from reduced numbers during lockdowns. This makes the recovery of the airport and other successfully recovered airports all the more impressive, demonstrating their resilience and adaptability. The strategies these recovered airports adopt can provide valuable insights for others in the industry.
Strategic Location and Connectivity
Its strategic location is vital to its impressive recovery. This hub is a convenient gateway to three countries situated at the tripoint of France, Germany, and Switzerland. Its excellent connectivity attracts business and leisure travelers, who value the ease of access to multiple regional destinations.
Tourism Opportunities and Abundant Accommodation Options
The increasing passenger traffic at EuroAirport Basel Mulhouse Freiburg has been fueled partly by the surrounding region's abundance of tourism opportunities and diverse accommodation options. This area is known for its rich cultural heritage, picturesque landscapes, and vibrant cities, making it a desirable destination for travelers worldwide.
The airport is a gateway to numerous popular tourist destinations located at the tripoint of France, Germany, and Switzerland. Travelers can easily explore the charming Swiss cities of Basel and Zurich, venture into the scenic Black Forest region in Germany, or immerse themselves in the cultural wonders of Alsace, France.
Additionally, the region offers a range of accommodation options to suit all preferences. From luxurious hotels in bustling city centers to cozy bed and breakfasts in idyllic villages, there is something to cater to every budget and style. With such diverse options, visitors can easily find comfortable and convenient places to stay.
These abundant tourism opportunities and accommodation choices have attracted more passengers. Travelers are enticed by the chance to explore the captivating surroundings and experience this region's unique blend of cultures. With the airport's convenience and the allure of nearby attractions, it has become an increasingly popular choice for tourists seeking an enriching and memorable travel experience.
Diverse Airline Partnerships
The airport's recovery can also be attributed to its strong partnerships with diverse airlines. By collaborating with a wide range of carriers, EuroAirport Basel Mulhouse Freiburg can offer a comprehensive network of routes catering to different traveler preferences. The availability of multiple airlines ensures increased options, convenience, and competitive pricing for passengers, contributing to the airport's attractiveness.
Expanding Flight Offerings
The airport has expanded its flight offerings to meet the growing demand. The airport has actively worked to attract new airlines and routes, enhancing its connectivity and providing travelers with greater choices. Adding more destinations and frequencies has become an increasingly appealing option for passengers seeking hassle-free travel to their preferred locations.
Enhanced Passenger Safety Measures
Another significant airport recovery factor is its commitment to passenger safety. The airport implemented rigorous health and safety protocols throughout the pandemic, ensuring travelers a secure and comfortable experience. By prioritizing the well-being of passengers, the airport built trust and confidence, encouraging more people to choose this hub for their journeys.
Government Support and Initiatives
Government support and initiatives have played a crucial role in facilitating the recovery of this hub. Authorities recognized the importance of the aviation industry and provided necessary assistance to ensure its revival. Financial support, policy adjustments, and collaboration between stakeholders have contributed to the positive growth trajectory of the airport.
Adaptation and Continuous Improvement
The airport's ability to adapt and continuously improve its services has been instrumental in its recovery. It has embraced technology to enhance efficiency, offer seamless experiences, and streamline processes. By focusing on innovation and customer-centric solutions, it has stood out as a forward-thinking and user-friendly airport.
EuroAirport Basel Mulhouse Freiburg's impressive recovery reflects the determination and resilience of airports worldwide. The challenges faced during the global pandemic necessitated quick adaptation and collaboration. The airport's strategic location, diverse airline partnerships, expanding flight offerings, enhanced passenger safety measures, government support, and commitment to adaptation and continuous improvement have all contributed to its success.
UNBEATABLE VALUE CAR RENTAL
FREE
Amendments,
FREE
Cancellations,
NO
card fees!

airport_shuttle Need Airport Transfers?
Useful Information about Basel Airport