Basel Airport Arrivals (BSL)
Not all flights may be showing. If not available use search above to find your flight by airline, airport or flight number.
Origin
Airline
Flight no.
Scheduled
Est./Actual
Status
Palma Mallorca (PMI)
easyJet
U27271
08:40
Scheduled
Antalya (AYT)
SunExpress
XQ110
08:55
Scheduled
Munich (MUC)
Lufthansa
LH2394 expand_more(3)
09:10
Scheduled
Munich (MUC)
All Nippon Airways
NH6105
09:10
Scheduled
Munich (MUC)
Swiss
LX3923
09:10
Scheduled
Munich (MUC)
United Airlines
UA9600
09:10
Scheduled
Amsterdam (AMS)
easyJet
U21222
09:30
Scheduled
Antalya (AYT)
SunExpress
XQ610
09:30
Scheduled
NIce (NCE)
easyJet
U21054
09:30
Scheduled
Malaga (AGP)
easyJet
U27021
09:35
Scheduled
Athens (ATH)
Aegean Airlines
A3858
09:35
Scheduled
Vienna (VIE)
Austrian Airlines
OS471 expand_more(1)
09:40
Scheduled
Vienna (VIE)
Swiss
LX3581
09:40
Scheduled
Barcelona (BCN)
easyJet
U27101
09:45
Scheduled
Amsterdam (AMS)
German Airways
KL1985 expand_more(3)
09:55
Scheduled
Amsterdam (AMS)
Delta Air Lines
DL9317
09:55
Scheduled
Amsterdam (AMS)
Kenya Airways
KQ1985
09:55
Scheduled
Amsterdam (AMS)
Xiamen Air
MF9641
09:55
Scheduled
Istanbul (IST)
Turkish Airlines
TK1923 expand_more(1)
09:55
Delayed
Istanbul (IST)
IndiGo
6E4095
09:55
Delayed
Hamburg (HAM)
easyJet
U21182
09:55
Scheduled
Rome (FCO)
easyJet
U21124
10:00
Scheduled
Palma Mallorca (PMI)
Eurowings
EW6810
10:25
Scheduled
Porto (OPO)
easyJet
U27731
10:25
Scheduled
Hurghada (HRG)
Air Cairo
SM2910
10:30
Scheduled
Paris (CDG)
Air France
AF1192 expand_more(6)
10:40
Scheduled
Paris (CDG)
Air Mauritius
MK9670
10:40
Scheduled
Paris (CDG)
China Eastern Airlines
MU1883
10:40
Scheduled
Paris (CDG)
Delta Air Lines
DL8266
10:40
Scheduled
Paris (CDG)
GOL Linhas Aereas
G35268
10:40
Scheduled
Paris (CDG)
Kenya Airways
KQ3752
10:40
Scheduled
Paris (CDG)
KLM
KL2043
10:40
Scheduled
Frankfurt (FRA)
Lufthansa
LH1202 expand_more(4)
10:40
Scheduled
Frankfurt (FRA)
Air Canada
AC9010
10:40
Scheduled
Frankfurt (FRA)
SAS
SK3316
10:40
Scheduled
Frankfurt (FRA)
Swiss
LX3911
10:40
Scheduled
Frankfurt (FRA)
United Airlines
UA9329
10:40
Scheduled
Split (SPU)
easyJet
U21162
10:45
Scheduled
London (LHR)
British Airways
BA752 expand_more(4)
10:50
Scheduled
London (LHR)
American Airlines
AA6786
10:50
Scheduled
London (LHR)
Jet Linx Aviation
JL7755
10:50
Scheduled
London (LHR)
Qantas
QF3544
10:50
Scheduled
London (LHR)
Qatar Airways
QR5935
10:50
Scheduled
Faro (FAO)
easyJet
U27523
10:50
Scheduled
Istanbul (SAW)
AnadoluJet
TK7852
10:50
Scheduled
London (LGW)
easyJet
U28477
11:00
Scheduled
Edinburgh (EDI)
easyJet
U21234
11:05
Scheduled
Prishtina (PRN)
Enter Air
E46054
11:05
Scheduled
Casablanca (CMN)
Air Arabia
3O265
11:35
Scheduled
Manises (VLC)
easyJet
U21002
11:40
Scheduled
Catania (CTA)
easyJet
U21118
11:55
Scheduled
Venice (VCE)
easyJet
U24083
12:05
Cancelled
Istanbul (SAW)
Pegasus
PC939
12:20
Scheduled
No flight arrivals were found at Basel Airport.
Flight Arrivals at Basel Airport
Euro Airport Basel-Mulhouse-Freiburg is conveniently placed: it is just a 5 minute journey by bus or hire car to Basel and Saint-Louis from the airport and a 30 minute journey to Mulhouse, a favourite tourist destination. Within an hour's drive there are Berne, Lucerne, Colmar and Zürich to discover. Basel arrivals can also reach the historic university city of Freiburg in Germany in about an hour.
Last year the airport handled some 9 million passengers, a number that has steadily increased over the years thanks to excellent onward transport options by road, bus and train. The terminal building is currently undergoing some enhancements and refurbishment, but there are plenty of services and facilities to make arrival at the airport a pleasant one.
Since the airport occupies French soil rather than being located in the Swiss Canton of Basel, the responsibility of operating the airport is shared by both countries. The terminal has therefore a Swiss and a French sector, but staff are multilingual and arriving passengers shouldn't have a problem making their wishes heard and understood.
Arrivals at Basel Airport looking for car hire should follow the signposting to the car rental stations in either of the two sectors. Car rental suppliers such as Avis, Europcar, National, Hertz and Sixt can be found at both the Swiss and French Sectors. The French sector provides car rental in hall 1 on level 2 and the Swiss sector has car hire desks on level 2 in hall 4.
There are also some shopping facilities for passengers looking for last minute groceries, books or magazines from the newsstand. A general grocery kiosk is located on level 3 in the Swiss sector and a newsagents and tobacconist can be found on level 3 in the French sector.
Arrivals at Basel without pre-booked accommodation should ask at the information desk on level 2 (opening times: daily from 5.30 am to midnight) how to contact hotels in the area or contact the official Basel tourism center on +41 (0) 61 268 6868 or email to info@basel.com to make a room reservation.
Airport taxis from the French sector to for example Mulhouse will cost around EUR45.00 during the day and around EUR 60.00 at night time. A taxi to the German city of Freiburg will cost EUR 110.00.
Starting by taxi from the Swiss sector of the terminal building will cost approx. CHF 40 to 50 to Mulhouse and CHF 320 to Freiburg in Germany. The taxi ranks are located just outside the terminal, in front of the respective sectors.
Basel Airport arrivals looking for onward travel by train should take an airport bus or a taxi to either Saint-Louis train station or Basel Bahnhof SBB (central train station). Both train stations are within a 5 minute drive and from connect into the French, Swiss and German rail networks for regional as well as high speed intercity connections to major cities. The airport does not have its own train station.
There is also a tram line (no.2) from Badischer Bahnhof to the central train station in Basel, where the airport bus waits just outside and also drops off passengers arriving from the airport.
For further information about Basel arrivals, please visit the official airport website at www.euroairport.com.
Was your flight delayed or cancelled?
You may be eligible to receive up to 600 EUR compensation per person in your party..
Claim Now!
Beat the Queues
Don't stand sweating for 45 mins waiting for Security. Get a fast track and get through in 5 mins or less.
Book now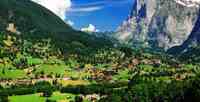 Most tourists head to Lucerne, Geneva or Zürich, but Basel is an underrated gem!