Basel Airport Departures (BSL)
Not all flights may be showing. If not available use search above to find your flight by airline, airport or flight number.
Destination
Airline
Flight no.
Scheduled
Est./Actual
Status
Antalya (AYT)
SunExpress
XQ111
09:45
Scheduled
Munich (MUC)
Lufthansa
LH2395 expand_more(2)
09:45
Scheduled
Munich (MUC)
Swiss
LX3924
09:45
Scheduled
Munich (MUC)
United Airlines
UA9601
09:45
Scheduled
Brindisi (BDS)
easyJet
U21119
10:00
Cancelled
Malaga (AGP)
easyJet
U27022
10:15
Scheduled
Barcelona (BCN)
easyJet
U27102
10:15
Scheduled
Antalya (AYT)
SunExpress
XQ611
10:20
Scheduled
Athens (ATH)
Aegean Airlines
A3859
10:20
Scheduled
Vienna (VIE)
Austrian Airlines
OS472 expand_more(1)
10:20
Scheduled
Vienna (VIE)
Swiss
LX3582
10:20
Scheduled
Amsterdam (AMS)
German Airways
KL1986 expand_more(3)
10:25
Scheduled
Amsterdam (AMS)
Delta Air Lines
DL9673
10:25
Scheduled
Amsterdam (AMS)
Kenya Airways
KQ1986
10:25
Scheduled
Amsterdam (AMS)
Xiamen Air
MF9642
10:25
Scheduled
Ajaccio (AJA)
easyJet
U21063
10:25
Scheduled
Bordeaux (BOD)
easyJet
U21069
10:30
Scheduled
Marseille (MRS)
easyJet
U21057
10:40
Scheduled
Istanbul (IST)
Turkish Airlines
TK1924 expand_more(1)
10:45
Scheduled
Istanbul (IST)
IndiGo
6E4151
10:45
Scheduled
Constantine (CZL)
ASL Airlines
5O535
11:10
Scheduled
Palma de Mallorca (PMI)
Eurowings
EW6811
11:10
Scheduled
Porto (OPO)
easyJet
U27732
11:10
Scheduled
Nice (NCE)
easyJet
U21051
11:15
Scheduled
Frankfurt (FRA)
Lufthansa
LH1203 expand_more(4)
11:15
Scheduled
Frankfurt (FRA)
Air Canada
AC9095
11:15
Scheduled
Frankfurt (FRA)
SAS
SK3133
11:15
Scheduled
Frankfurt (FRA)
Swiss
LX3912
11:15
Scheduled
Frankfurt (FRA)
United Airlines
UA9319
11:15
Scheduled
Paris (CDG)
Air France
AF1193 expand_more(4)
11:20
Scheduled
Paris (CDG)
Air Mauritius
MK9673
11:20
Scheduled
Paris (CDG)
China Eastern Airlines
MU1886
11:20
Scheduled
Paris (CDG)
Delta Air Lines
DL8267
11:20
Scheduled
Paris (CDG)
KLM
KL2044
11:20
Scheduled
Faro (FAO)
easyJet
U27524
11:20
Scheduled
Hurghada (HRG)
Air Cairo
SM2911
11:30
Scheduled
Lamezia Terme (SUF)
easyJet
U21121
11:30
Scheduled
Ibiza (IBZ)
easyJet
U21017
11:40
Scheduled
London (LHR)
British Airways
BA753 expand_more(3)
11:40
Scheduled
London (LHR)
American Airlines
AA6701
11:40
Scheduled
London (LHR)
Jet Linx Aviation
JL7772
11:40
Scheduled
London (LHR)
Qatar Airways
QR5940
11:40
Scheduled
Istanbul (SAW)
AnadoluJet
TK7853
11:55
Scheduled
Pristina (PRN)
Enter Air
E46051
12:00
Scheduled
Casablanca (CMN)
Air Arabia
3O266
12:25
Scheduled
Cagliari (CAG)
easyJet
U21109
12:30
Cancelled
Venice (VCE)
easyJet
U24084
12:35
Cancelled
Alicante (ALC)
easyJet
U21011
12:45
Scheduled
Tangier (TNG)
Swiftair
WT561
01:00
Scheduled
No flight departures were found at Basel Airport.
Flight Departures at Basel Airport
Basel Airport departures have a large variety of options for onward travel open to them. The airport's official code can be a little confusing, since the IATA code can be either BSL for Basel in Switzerland or MLH for Mulhouse in France. In addition, the official international code is EAP, which stands for Euro Airport.
Departures at Basel can catch flights to Frankfurt, Manchester, Barcelona, Edinburgh, Paris-Orly, London Heathrow, Dresden, Madrid, Nice and Copenhagen among many other European destinations.
Flights are offered via well known carriers such as EasyJet, Lufthansa, British Airways, Air France, Air Berlin, Swiss Air and Austrian Airlines to name but a few. Last year more than 9 million travelers passed through this relatively small airport that was inaugurated on 8th May 1946. In 2012 the old part of the terminal building is undergoing some much needed refurbishment and renovation. It is envisaged that this central part of the terminal building will practically be rebuilt by 2013.
The airport has only one terminal building, a large glass and steel structure with car parking right in front. Passengers seeking assistance should seek out the information desk, which is situated on level 2 and opens at 5.30 am, staying open until midnight every day.
Departures at Basel won't have any difficulties to reach the airport no matter which neighbouring country they might travel from. The airport is located at the very crossroads of economically well-to-do regions. The wine-growing and popular tourist region of the Alsace, North West Switzerland and the Federal State of Baden Württemberg in Germany are just on the doorstep of Basel Airport, which has excellent road connections. From Basel train station passengers have easy access to the airport via regular trams and airport buses.
The terminal is open around the clock but terminal operations don't start until 4.00 am and continue until midnight every day. Depending on their status, departing passengers must check in either 60 minutes or 90 minutes prior to their flight.
For passengers who have no luggage to register and who have already checked in the evening before via the internet, the waiting time is cut to just one hour, since they can proceed directly to the security checks in the departure hall.
Passengers with luggage to register and a full check-in still to complete must allow at least 90 minutes for the whole process. Departures at Basel Airport can either check-in at the automatic check-in machines in the departure hall or go to the relevant counter of their airline to register luggage and complete check-in. Departures travelling to non-Schengen countries should allow a further 30 minutes to go through passport control.
Basel departures who have either lost or mislaid their luggage or have a complaint about damaged luggage should consult the relevant Lost and Found Luggage desk of their airline. The last airline that handled a passenger's luggage is responsible for dealing with either lost or damaged passenger luggage. The Air France and Swissport desks for example are in the French Sector in hall 1, level 2 and the arrivals hall of the international sector for example.
For passengers with a little time on their hands prior to their flight there are various shops, bars and restaurants to while away the waiting time. Since the terminal is split into an international zone, a French and Swiss sector, there are different opening times and different facilities at all of them.
For example, there are restaurants located on level 5 in the Swiss Sector, with opening times from Monday to Sunday from 08.00 to 23.00. The French sector has restaurants with opening times Monday to Thursday from 09.00 to 23.00 and from Friday to Sunday from 08.00 to 23.00.
Departing passengers will find Duty Free shopping in the departure hall, once they have gone through the security checks and passport control.
For further information about Basel departures, please visit the official Euro Airport website at www.euroairport.com.
Was your flight delayed or cancelled?
You may be eligible to receive up to 600 EUR compensation per person in your party..
Claim Now!
Beat the Queues
Don't stand sweating for 45 mins waiting for Security. Get a fast track and get through in 5 mins or less.
Book now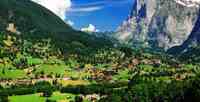 Most tourists head to Lucerne, Geneva or Zürich, but Basel is an underrated gem!