BASEL AIRPORT (BSL) INFORMATION
Origin
Airline
Flight no.
Scheduled
Est./Actual
Status
No flight arrivals were found at Basel Airport.
Destination
Airline
Flight no.
Scheduled
Est./Actual
Status
No flight departures were found at Basel Airport.
Car Hire at Basel Airport
UNBEATABLE VALUE CAR RENTAL
Free Amendments | Free Cancellations | No Card Fees




Basel Airport - All Information on Basel Airport (BSL) Basel Airport
Boîte Postale 120, F-68304 Saint Louis Cédex, France
phone +41(0)613 253 111
phone+33 3 8990 3111 (Lost + Found)
emailhttps://www.euroairport.com/en/contact.html
call_end+41(0)613 252 577 (fax)
Facts and History about Basel Airport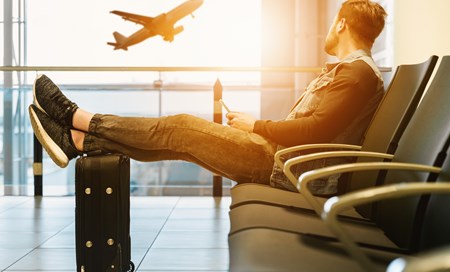 Basel Airport is located some 3.7 miles/7 km northwest of Basel city center. The airport also serves the city of Mulhouse, which is located 14 miles / 22 km away and the historic city of Freiburg, which is located some 43 miles/70 km across the border in Germany.
Although the airport actually sits on French territory, it is jointly operated by Switzerland and France. Last year the airport was used by some 9 million passengers, as the area is a popular destination for both tourists and business travelers.
Its IATA code can be either BSL for Basel in Switzerland or MLH for Mulhouse in France, as well as the occasional EAP for Euro Airport, which is the international code. Basel Airport is well connected to roads and public transport.
The A35 (on the French side) motorway links up with the airport and Switzerland's bus service Line 50 to Basel connects the Swiss part of the airport with the main train station (Bahnhof SBB) in Basel. The French bus service Line 11 links the French part with the Saint-Louis train station.
Arrivals and Departures at Basel Airport
A number of internationally renowned car hire companies also offer their fleets for car rental at the airport. In the French sector car rental stations are located in hall 1 on level 2 and in the Swiss sector passengers will find the car hire desks on level 2 in hall 4.
It takes around 5 minutes to get to Saint-Louis on the French side and 30 minutes to reach Mulhouse by car. A drive to Colmar will take around 50 minutes. Driving to Basel will only take 5 minutes and a trip by hire car to Berne will take approximately one hour, as will a car journey to Zürich or Lucerne.
Euro Airport Basel-Mulhouse-Freiburg serves both domestic and international airlines. Flights to Munich, Frankfurt, Manchester, London, Barcelona, Madrid, Rome, Istanbul or Copenhagen for example leave at regular intervals throughout the day. International airlines such as EasyJet, British Airways, Lufthansa, Air France, Swiss Air, Air Algerie, Air Berlin and Austrian Airlines among others serve Basel Airport.
The airport has only one terminal building. The information desk is located on level 2 and is open from 5.30 am to midnight every day. There are restaurants on level 5 in the Swiss Sector, which are open from Monday to Sunday from 08.00 to 23.00 and also in the French sector, which are open for business from Monday to Thursday from 09.00 to 23.00 and from Friday to Sunday from 08.00 to 23.00.
Basel airport also offers some shopping facilities, including Duty Free shopping to passengers. For general grocery shopping there is a kiosk located on level 3 in the Swiss sector and a book shop, newsagents and tobacconist as well as general grocery type shop is open on level 3 in the French sector also.
In the departure zone passengers can enjoy duty free shopping in outlets selling perfume and cosmetics, fashion for ladies and gentlemen, accessories, leather goods, watches and jewelry, chocolate and other confectionery, toys as well as wine and spirits.
Passengers with reduced mobility will find ramps for their convenience lead from the car parks directly into the terminal. Unfortunately, Basel Airport does not operate a shuttle service between the parking areas and the terminal, but passengers seeking assistance should contact the airport's information desk to ask for their CGS team, a special assistance company. Inside the terminal there are lifts to transport passengers and visitors to the various levels.
For further information about services and facilities at the airport, please visit the official website at www.euroairport.com.
BSL is the 3 letter IATA code for Mulhouse Airport. It is officially known as Euroairport Basel Mulhouse Freiburg. To help you in your arrival or departure you can enter the following GPS details – 47.60000, 7.53333 into your Smartphone or in-car GPS system to help you get directions.
Hotels near Basel Airport
There are a number of hotels to suit all budgets and requirements at or near Basel Airport.
Additional Services and Amenities at Basel Airport
At Basel Airport you will find the usual array of bars and restaurants, airport lounges and shops.
Things to do in Basel City
There are a number of activities to suit all ages and interests in the region - see a selection of tourist activities in Basel City, Switzerland.
Services at Basel Airport
Useful Information about Basel Airport